(Family Features) Cooking meals that bring your loved ones joy is often objective No. 1 but creating those flavorful favorites on an appropriate budget is an important aspect of well-rounded, family-friendly recipes. A few simple steps, like developing good grocery shopping habits, can put smiles on hungry faces without leaving a dent in your finances.
Consider these tips from the experts at Healthy Family Project along with its produce partners, which are on their 2023 Mission for Nutrition to improve access to fresh produce that's essential in alleviating many public health and personal wellness challenges. This year's partners are striving to be part of the improvement efforts by donating funds to increase the accessibility to fruits and vegetables in schools through the Foundation for Fresh Produce.
Make a List (and Stick to It)
When buying fresh produce, remember some items have a shorter shelf life. Limiting purchases to items on your list can help lower grocery spending while alleviating food waste.
Buy Local
Transportation cost is one of the biggest factors in the price of produce, meaning buying local, when possible, can help reduce your total at checkout.
Stock Up on Seasonal Produce
Although you can generally find any produce item at any time of year, this isn't always an affordable practice. Knowing when your favorite fruits and veggies are in-season can save you money and allow you to use the freshest ingredients in family breakfasts like Protein-Packed Sausage Breakfast Muffins and Savory English Muffins.
Know Your Produce Department
The front or feature table of the produce department often offers the best deals. Don't forget to look at the end caps on each produce aisle, which sometimes display seasonal items.
Befriend the Produce Manager
Throughout each week, a "hot buy" may come into the store that didn't make it into the weekly ad. This happens with items at the end of their seasons, in particular, or if a crop is doing well. Chat with the produce manager at your local store and he or she may inform you of special prices.
Find more grocery savings strategies and family-friendly recipes at HealthyFamilyProject.com.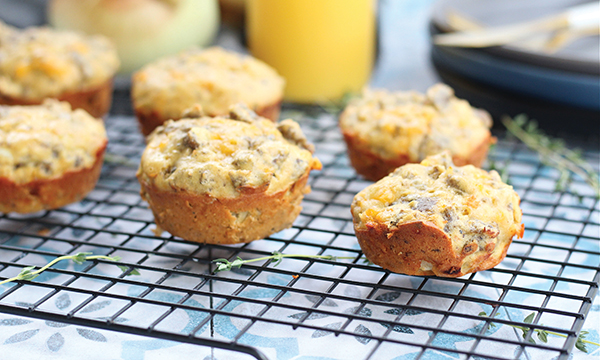 Protein Packed Sausage Breakfast Muffins
Recipe courtesy of Healthy Family Project
            Nonstick cooking spray
1          sweet onion, diced
1          pound turkey sausage
4          eggs
1/2       cup shredded cheddar cheese
1          cup protein pancake mix
Preheat oven to 350 F. Spray 12-cup muffin pan with nonstick cooking spray. Set aside.
In skillet over medium heat, cook sweet onion until translucent. Add turkey sausage and cook until no longer pink. Remove from heat.
In large mixing bowl, lightly beat eggs. Add shredded cheese, pancake mix and cooked sausage; mix well.
Fill prepared muffin cups about 3/4 full with mixture. Bake 18-20 minutes, or until golden brown on top.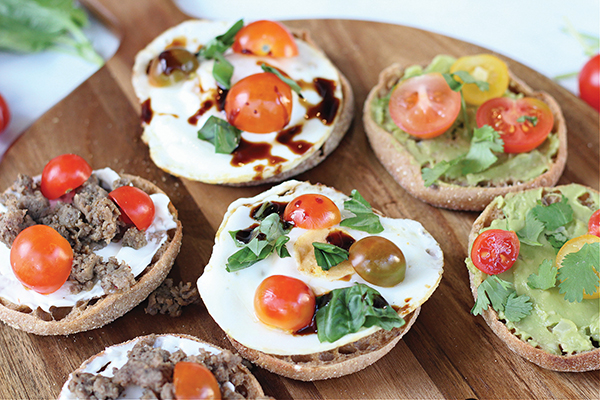 Savory English Muffins
Recipe courtesy of Healthy Family Project
            English muffins
guacamole
cherry tomatoes
1          tablespoon cilantro, finely chopped
1          tablespoon light cream cheese
1          tablespoon crumbled turkey sausage, sauteed
1          egg
1          tablespoon basil, finely chopped
1          tablespoon balsamic glaze
Toast English muffins and top with desired combinations of toppings, such as: guacamole, tomatoes and cilantro; cream cheese, tomatoes and turkey sausage; or egg, tomatoes, basil and balsamic glaze.

SOURCE:
Healthy Family Project